HC Super Large Grinding Mill
HC Large-scale Grinding Mill was developed on the basis of HC1700 Grinding Mill. The HC series mill is a really high efficiency, energy saving and environmentally friendly ultra-large grinding mill referenced Germany technology and applied multiple patents. The capacity can reach 90t/h and can fulfill the national industry policy and large-scale industry producing requirement. The equipment fill the blank of large grinding mill in China, and extend the application fields of pendulum grinding mill. The HC Large-scale Grinding Mill has international advanced technology which largely increase efficiency. The mill is able to be the replacement of any other facilities, it has the best performance in large-scale powder processing of power plant desulfuation, manganese industries.
At present, Hongcheng HC Large-scale Grinding Mill has a wide application in more than one hundred enterprises of manganese, petrol coke, power plant desulfuation, talc, calcium carbonate industry.
Working Principle
Powder processing system technological process: raw material will be transport to semi-open shed by special vehicle, and then be shoveled into the crusher to be crushed into particles smaller than 40mm. The material particles will be raised to the storage hopper by the elevator and then be evenly sent to the main mill for grinding by feeder. The qualified fine powder will be classified and blew to the pulse dust collector as product and finally discharged from the dust collector. The product will be transported to powder storage. The system is designed as open circuit system with full pulse dust collecting (able to collect 99.9% of the powder), so the equipment has higher capacity and lower pollution. The product can be deep-processed according to actual technology. HC grinding mill has really high capacity so the product cannot be packed by hand-filling, the packing job is supposed to be done after the powder be sent to the storage tank.
Application Range
HC3000 Grinding Mill is widely used to grind any non-metallic minerals with Moh's hardness below 7 and moisture below 10%, such as limestone, calcite, activated carbon, talc, dolomite, titanium dioxide, quartz, bauxite, marble, feldspar, barite, fluorite, gypsum, ilmenite, phosphorite, clay, graphite, kaolin, diabase, gangue, wollastonite, quick lime, silicon carbide, bentonite, manganese. The fineness can be adjusted from 0.18mm(80 mesh) to 0.038mm(400 mesh), whose range is much wider than that of traditional raymond mill.

HC3000 Grinding Mill Structure
HC Series Grinding Mill consists of main mill, constraint turbine classifier, pipe system, high pressure blower, double cyclone collector system, pulse air collector, feeder, electronic control motor and jaw crusher, pan elevator. The main mill consists pedestal, return air box, shovel, roller, ring, housing and motor. The roller and ring are cast by wear-resistant material. Reducer device can be applied in the power unit of the whole system.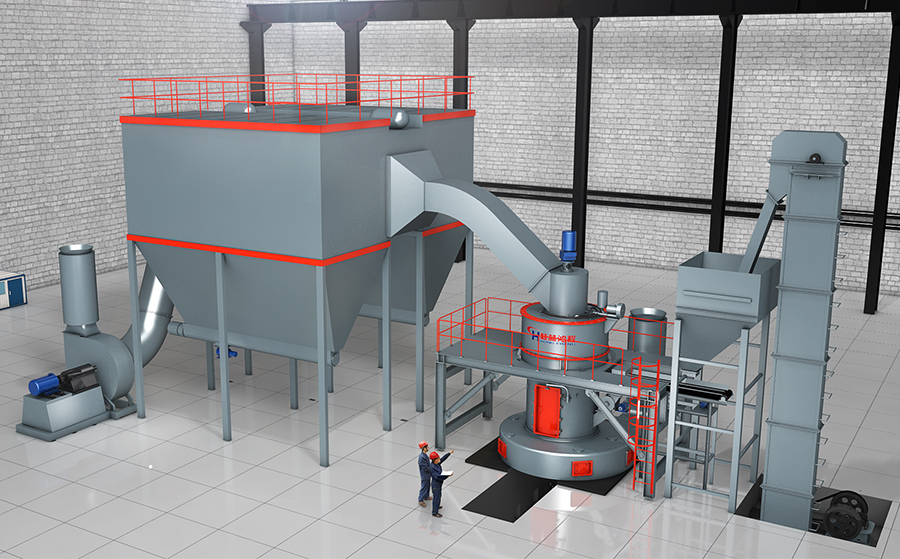 1. Advance equipment, reliable operation
(1) HC Large-scale Grinding Mill is a new equipment developed by Guilin Hongcheng, it was appraised by famous experts. The equipment is international advanced and has the advantages of high capacity, low energy consumption, stable performance and environmentally friendly.
(2) Frame style cast pedestal has stable structure and high shock resistance, it can also avoid cracking or damage of vibration.
(3) Shock absorbing axle sleeve made from special rubber and wear-resistant material not only absorb the vibration, but also has long service time.
2. High efficiency, low cost
(1) Single capacity can reach 90t/h, honored as Asian largest pendulum grinding mill by experts. Break the choke point of traditional pendulum mill, able to replace any type of grinding mill. The equipment is the best choice for large-scale powder processing.
(2) 40% higher capacity than traditional Raymond mill, 30% higher than ball mill (under the same condition).
(3) Applied high efficiency turbine classifying technology, production fineness can be adjusted from 80 mesh to 400 mesh. At the same time, applied air sealing obstruct technology to improve efficiency and accuracy in powder classifying, ensuring the percent of pass.
(4) Unique feeding method ensuring evenly material distribution to increase grinding efficiency. Moreover, it will increase the capacity and reduce abrasion.
(5) Applied offline pulse dust collector or pulse-jet collector (Patent No.CN200820113691.6), high capacity of dust removing, long service time of filter bags. 99.9% of the powder can be collected. The sealing for the mill ensures no powder floating in the workshop, so the equipment is more suitable for high dust concentration and high moisture site.
(6) 20-30dB lower noise than ball mill.
3. Advanced technology, easy maintenance, low operation cost
(1) Compact, reasonable and reliable spider-arm structure, the grinding ring can be changed without tearing down, which can reduce maintenance time and avoid unexpected trouble.
(2) Multi-layer blocking sealing structure(Patent No.CN200820113450.1): The roll assembly works in high dust concentration environment. The lamination sealing of the traditional R type roller mill sealed bearings unreliable. While this proposal adopted with multi-layer blocking sealing structure which combined with the floating oil sealing technology, screw seals and skeleton seals to prevent dust going into the bearing. Keep the roll assembly working smoothly and durable. Vastly short the maintenance time. The traditional R type roller mill needs lubrication each 1-2 days. The newly designed sealing structure ensures the roller assembly works continuously for 500-800 hrs without lubrication.
(3) Applied high performance wear-resistance material to cast wear-resistant parts, offering high wear-resisting property and long service life. High-chromium alloy can be applied to deal with high power and high burden grinding task, in this way, the service life will have 3 times longer than industrial standard.
(4) Equipped with combined cover structure, the roller and ring can be replaced without removing other parts, offering an easy maintenance.
(5) Applied frequency control and can be operated by PLC, realized unmanned operation and save up label cost. Customers can also choose long distance intelligent monitoring system to control the operation state.
4. High coat-effective, low investment cost
(1) The equipment has strong systematic because it can organize an independent and complete production system of raw material crushing, transporting, grinding to production collecting, storing and packing. The grinding mill is in stereo-chemical structure, consume small floor space (1/3 floor space of 4R mill under same capacity), largely reduce construction cost.
(2) High applicability, need not to change any parts before processing different material or fineness.
(3) Lower investment cost than vertical mill under same capacity.