Which company's calcium oxide production equipment is used to grind calcium oxide powder with high capacity? The new generation Raymond mill equipment developed by HCM is a professional equipment conducive to generating income in the calcium oxide grinding market. It can grind the powder fineness of 80-400 mesh, the fineness can be adjusted, and supports a pair of certain selection schemes to provide an ideal equipment quotation.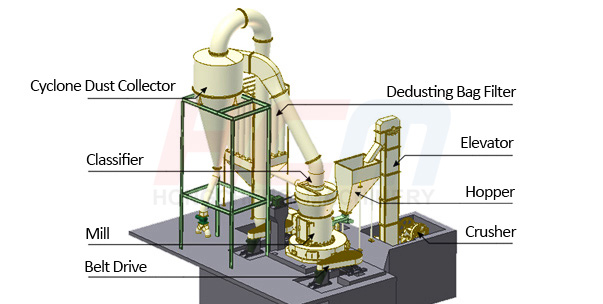 Raymond mill for grinding calcium oxide powder
The new generation of calcium oxide production equipment produced by HCM has high grinding and powder separation efficiency, fine classification accuracy and large production capacity. It is the equipment for grinding calcium oxide, marble, limestone, barite and other ore powder projects. As a new generation of grinder, Raymond Mill of HCM is made on the basis of traditional mill. It uses plum blossom frame and vertical swing grinding roller device. It has advanced structure, low noise, low vibration and more environmental protection. It is a professional equipment for grinding calcium oxide powder. Its advantages are as follows:
1. Environmental protection: use pulse dust collector to collect dust, with an efficiency of 99%, so as to realize dust-free processing.
2. More stable: the whole pulverizing machine has stable operation and reliable performance, which can create good economic and social benefits.
3. High efficiency: high single machine capacity, with an increase of more than 40%.
4. Easy maintenance: there is no need to disassemble the grinding roller to replace the grinding ring, which is convenient and easy to maintain.
How to determine the type selection and quotation?
How to customize the selection scheme, and how much is the quotation for a calcium oxide production equipment? HCM team will match and select solutions for customers from a professional perspective. We support one-to-one system, communicate the fineness, capacity and installation environment of the project before sales, tailor-made model selection production line scheme that meets the requirements, and the quotation of matching calcium oxide Raymond mill is more scientific.
The new calcium oxide production equipment is an ideal choice for grinding calcium oxide powder. HCM recommends that you use Raymond mill equipment to grind 200 mesh powder. We will provide online consultation hotline to serve you and provide professional technical guidance for your calcium oxide grinding mill project.