For a long time, ball mill once known by many people as a mine mill, many customers tend to choose ball mill because of its low price, high capacity advantages, but ball mill is high cost of investment because of excessive energy consumption also make many customers daunting. With the rapid development of powder industry, vertical mill is gradually active in powder market. It is favored by powder market because of its high efficiency, energy saving, environmental protection, low energy consumption and high intelligence. To help us further understand the difference between them, Guilin Hongcheng analysis and elaboration from the design structure, working principle, performance characteristics and other aspects of ball mill and vertical mill.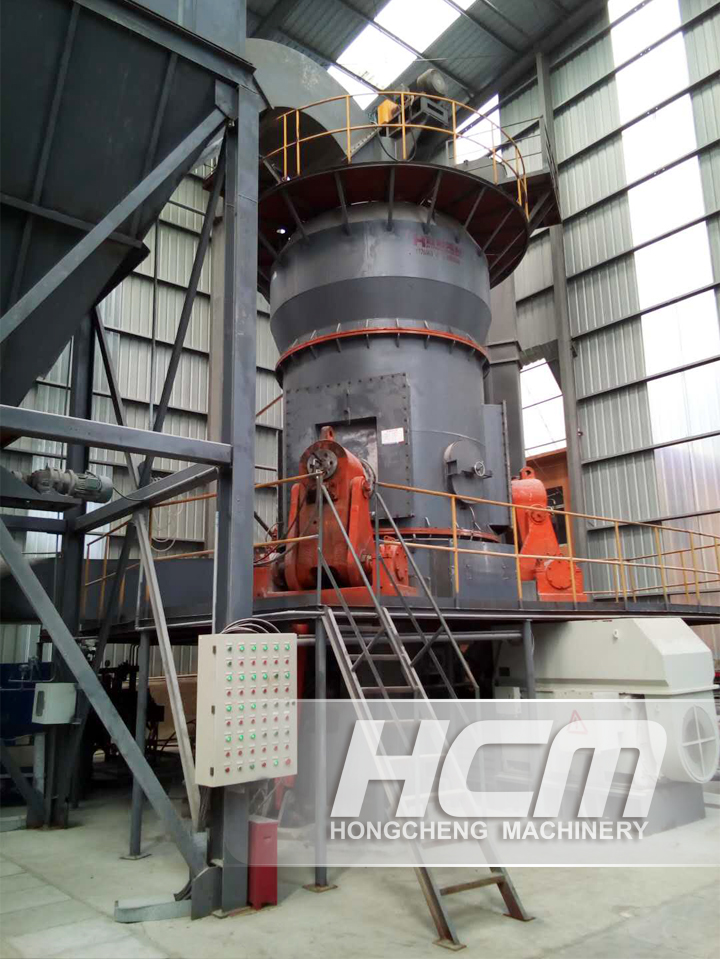 1, development history.
It is undeniable that ball mill is an important equipment in mineral processing production, and it has been more than 100 years of development history, so the technology of ball mill is relatively mature, and its application value in various industrial production departments is also high, but because of its own shortcomings, the market calls for new mill equipment are also growing. Vertical mill, started late in China, is still in the promotion stage, but with the further development of science and technology, vertical mill technology will gradually mature, its advantages of high efficiency and environmental protection will open up a new world for it.
2, structural design
Ball mills are divided into many types because of their different specifications, discharging and transmission modes, but their main structures are basically the same. It is mainly composed of cylindrical cylinder, liner plate, partition plate (which is only available in multi-bin mill), main bearing, feeding and discharging device and transmission system. The structure is rather complicated.
Vertical mill is simple structure, reasonable design; mainly consist of main mill, feeder, classifier, blower, pipe device, hopper, electrical control system, collection system and other components.
3, installation mode
Ball mill can operate normally, cannot be separated from the high-quality installation of the early, the installation of the ball mill is horizontal installation, high technical personnel requirements, installation difficulty, and high requirements for the foundation, installation cycle is long, the area is also very large.
Vertical mill is installed vertically, with fewer system equipment, compact structure, small floor area, short cycle, easy installation and low construction cost.
The same is they can be both open-air layout, vertical mill building area is 70% of the ball mill; building space is 50-60% of the ball mill.
4, the working principle.
Vertical mill is a combination of crushing, drying, classifying and conveying. It can save a dryer when facing the material with high humidity. It has strong drying ability and can directly ventilate hot air. It can save operation cost and energy consumption cost and realize the grinding while drying. Compared with the ball mill, the technological process of vertical mill is simple. The vertical mill only needs two stages of grinding, and the ball mill needs three stages of grinding.
5, grinding technology
In the ball mill, the material is mainly crushed by impact and friction; while in the vertical mill, the material is crushed mainly by extrusion, while grinding as a supplement; in contrast, the material in the vertical mill grinding residence time is shorter, about 2 to 3 minutes to complete.
6, applicate grinding field.
Vertical mill is mainly grinding and crushing, so it is more suitable for fine grinding and ultra-fine grinding. The whole system has less consumption of grinding medium and longer service life of liner.
Ball mill is more suitable for coarse grinding and fine grinding, using impact crushing, so the consumption of grinding medium is very large, making the mill lining life is short.
7, drying capacity
When grinding materials with high moisture content, the vertical mill can control the inlet air temperature, and can dry materials with moisture content of 12% - 15%, so it can be said that the drying capacity is very strong; while the drying ball mill can only dry materials with moisture content of 3% - 4%, so the vertical mill can greatly save economic costs.
8, energy consumption
Ball mill is a kind of equipment with high energy consumption. In the course of operation, all parts of the ball mill are in the state of motion; vibration and energy consumption are high.
Compared with ball mill, energy consumption of vertical mill can be 30%-40% reduced and vibration is small, which is low energy consumption.
9, emission mode
The discharge mode of vertical mill is forced type, which can avoid over-grinding, while the discharge mode of ball mill is self-exhausting type, which has high energy consumption and is prone to over-grinding.
10, finished product quality
Vertical mill avoids over-grinding, has higher purity, and there is no collision and contact between the metals. The wear of the metals is small, and the pollution of the finished products is small. Vertical mill can adjust the fineness of the products conveniently. The composition of the products is stable. When grinding white minerals, the whiteness and purity of the products are high.
11, energy saving and noise reduction.
Vertical mill the roller and grinding plate do not directly contact, vibration is small, low noise, soft sound, generally around 80 decibels, about 20-25 decibels lower than the ball mill.
Vertical mill is operated under full negative pressure with small dust emission, clean and low consumption, no dust pollution, while the ball mill is open, dust emission is large, and environmental pollution is great.
12, price impact
Vertical mill has less equipment, compact structure, low construction cost, small floor area (can be laid out in the open air, only 50% of the ball mill), long service life, high degree of automation, can save labor investment costs, thus greatly reducing the overall investment.