NOV 27th-30th, a magnificent exhibition of construction machinery will be unveiled.
The four days Bauma CHINA 2018 will be grandly opened in the Shanghai International Expo Center. As a vane of the industry, the biennial Bauma China 2018 attracts the attention of global construction machinery customers. It is reported that the total area of the exhibition will exceed 300,000 square meters, with 3340 enterprises from 38 countries and regions participating gloriously. It is expected that 200,000 professional audiences will attend the exhibition. As a faithful exhibitor of Bauma CHINA 2018, Guilin Hongcheng has always made a brilliant appearance in this exhibition with innovative mill technology to explore the magnificent prospects of international trade.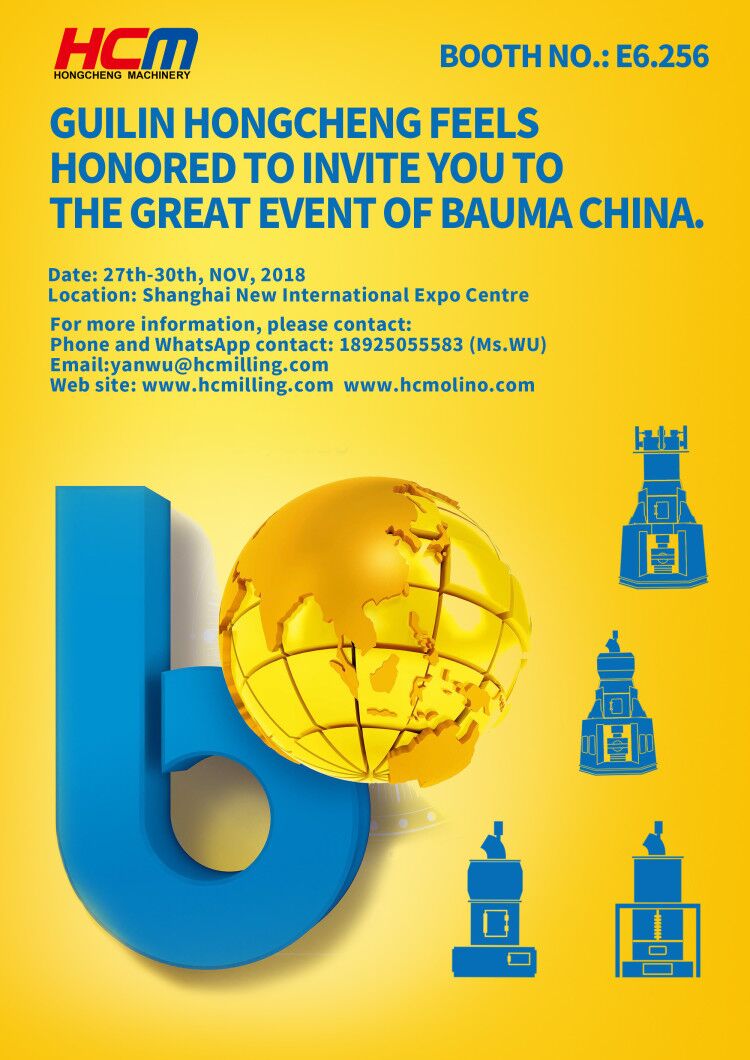 Since Bauma CHINA officially landed in China in 2002, from 400 exhibitors and 30,000 spectators at the beginning to 3,340 exhibitors and 200,000 spectators today, the tremendous changes have amazed us and made us see the luxuriant development space and infinite possibilities. The future belongs to those who strive to change, innovate, pioneer and forge ahead forever elite and team that do not give up.
In the era of information technology, intelligent technology will become another great power to light up the world. Over the past 16 years, Bauma has demonstrated to the whole world the achievements of industrial civilization and the humanistic feelings of the era of science and technology with its unique charm and unchanging original intention. This spirit of struggle has also inspired Hongcheng Mine to persevere in its original intention, to maintain the eternal entrepreneurial passion of contemporary craftsmen and manufacturers, and to integrate machinery into the value and spirit of life, the perseverance, maintaining the power of fresh innovation, and building a unique development era.
As a well-known enterprise specializing in the production and manufacture of grinding machinery, Guilin Hongcheng sticks to its original intention in the changeable weather, forgets innovation in its pioneering and enterprising process, and adheres to the concept of quality and service throughout its arduous business journey, and achieves a series of new equipment such as Raymond mill, vertical mill, ultra-fine mill and ultra-fine vertical mill. A footprint is firmly rooted in the domestic market, showing a sharp edge in Malaysia, Myanmar, Indonesia, South Africa, Russia, Vietnam, the Philippines and other overseas markets. The export volume of foreign trade shows a trend of sustained growth, and the international market has been further expanded.
Bauma CHINA has a broad stage. As an extension of Bauma Germany, a world-renowned construction machinery exhibition in China, it not only carries the vigorous development of today's cutting-edge science and technology, but also transfers the power of inheritance, innovation and wisdom to us. As a vigorous machinery manufacturing enterprise, Guilin Hongcheng will continue to receive market information and innovation. New technology development signal, create glory again, create brilliance together, contribute China a global brand!
Bauma CHINA 2018 is coming, Guilin Hongcheng sincerely welcomes you to Hongcheng Booth (booth number: E6.256) for a grand plan of development. On NOV 27th -30th, we will see you there!